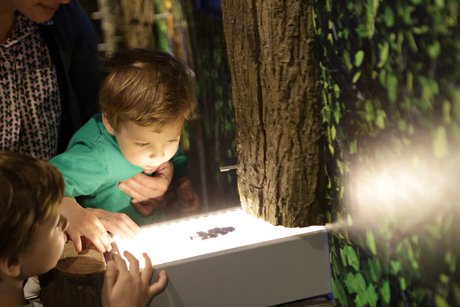 Interrupt the daily grind and replace it with adventure right on Fort Lauderdale property. Take time out, put thinking caps on, and set out to explore the Museum of Discovery and Science. Rooms of eye opening wonder fill the venue. Permanent exhibits mix with special occassions.
In the Eco Discovery Center the diverse Florida landscape is featured. Playful otters amuse guests as the frolic around in their cozy enclosure. Nearby an airboat simulator tours the everglades where visitors are seemingly immersed in the animals and plants found in the lush surroundings. Weather is wild and wonderful. Learn all about weather patterns in the interactive storm center. Budding storm chasers can actually touch the vortex of a tornado and experience the force of hurricane winds. When wandering through Prehistoric Florida beings from thousands of years ago take center stage.
The human body is miraculous and the subject of one of the newer permanent exhibits. How to sections in the Powerful You display focus on maintaining health and how each part of the body works together. Youth interested in pursuing fields in medical science find this part of the museum a valuable and educational resource. Other favorite exhibits include To Fly and Living in the Everglades.
Birthday Parties are a Blast for Youngsters Living in Fort Lauderdale
Birthday parties on the Fort Lauderdale property are a blast. Themed packages stimulate imaginations. Preschoolers and kindergarteners learn all about fossils and dinosaurs in the Dino Dig. Young scientists perform amazing experiments along with the birthday boy or girl in Super Scientist and Science Below Zero. Other partiers embrace their wild side with Animal Mania engaging with snakes, turtles and lizards. These celebrations will be marked off as the best of a lifetime with mom and dad taking bows for being the coolest parents ever!
Lines form for blockbuster movies in the state of the art Automax IMAX theater. Audience members living in Fort Lauderdale feel part of all the action due to special effects and the latest in entertainment technology. Current movie listings and times are found here.